"IGNIO – will help us win new deals" – N Chandrasekaran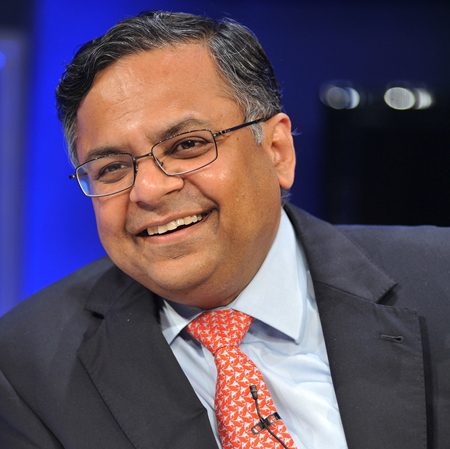 TCS chief N Chandrasekaran tells about Ignio, the firm's artificial intelligence platform.
Edited excerpts:
How does Ignio work?
It is a neuroscience-based self-learning platform. So if you take Ignio and you install it then the moment you put it into an environment, it sucks up the information about that environment and creates a context of the environment.
First, Ignio can eliminate things that can be eliminated — for example, your jobs fail because there is inadequate storage. It can predict that and tell you that next week you will run out of storage and it will tell you that it can order it for you because it has the knowledge of your pre-existing contract with a provider. So it can put in an order. The second thing is we will automate things that can be automated.
If a defect occurs, and Ignio knows how to fix it then it will do so on its own. The third one, if it does not know how to fix it, it will pass it back to a human solving a problem, and then once it is fixed, it will learn how it was done.
What led to the creation of Ignio? And what exactly is Ignio?
There has always been talk of automation. Even when I was doing engineering there was talk about automation but what makes it possible now is that there is the cloud that gives you vast computing power. So it is much more powerful today than it could have been before.
We call this service-as-a-software. The old cloud platforms were software as a service but this is a new paradigm. This we used to sell as a service, now we are selling this as a platform. Service-as-a-software is where you have a set of people doing certain services like a compliance checks; now Ignio can do that automatically.
What is inside Ignio?
It has got a lot of metadata, algorithms, an analytics engine. I am not going to publish the architecture for you. As long a process flow is there, it can automate the process. We are already using Ignio inhouse at TCS.
How long did it take to build the product?
We have been working on it for four years. And we have already had two versions. Internally, we have been checking it out and getting feedback.
What are the expectations from Ignio? Is there a certain amount of revenue that you expect from it?
What I am really looking at it is in how we can implement it. There is a lot of interest in it, the moment we launched it and demonstrated it, there was a lot of interest. In all these things, the most important thing is how it works. It is not priced the way we price normal services.
I am not putting a dollar figure on this. In this whole thing, adoption is the key. In the last year our efforts have been on perfection, the implementation and interface. Functionality we had a year ago.
What is the Ignio interface like?
Does it communicate via a humanoid avatar like some of the other artificial products in the market? Currently the usability it pretty cool. It is mobile-device based. There is an application interface. At present, there are five customers running on it. Five customers are in production. The feedback so far has been very positive. We also didn't do it with hundreds of customers because we have a strong base, we can easily scale.
What is the kind of sales organisation backing Ignio?
We have created a new team. We have appointed Akhilesh Tripathi to head the team. We have put a separate organisation based in the US. And they are hiring people who are product sales people.
Can you enter a new account with this?
Certainly it will help us win new deals; it is now a value proposition.